Story
Botswana Opens its First Public Radiotherapy Centre, With IAEA Support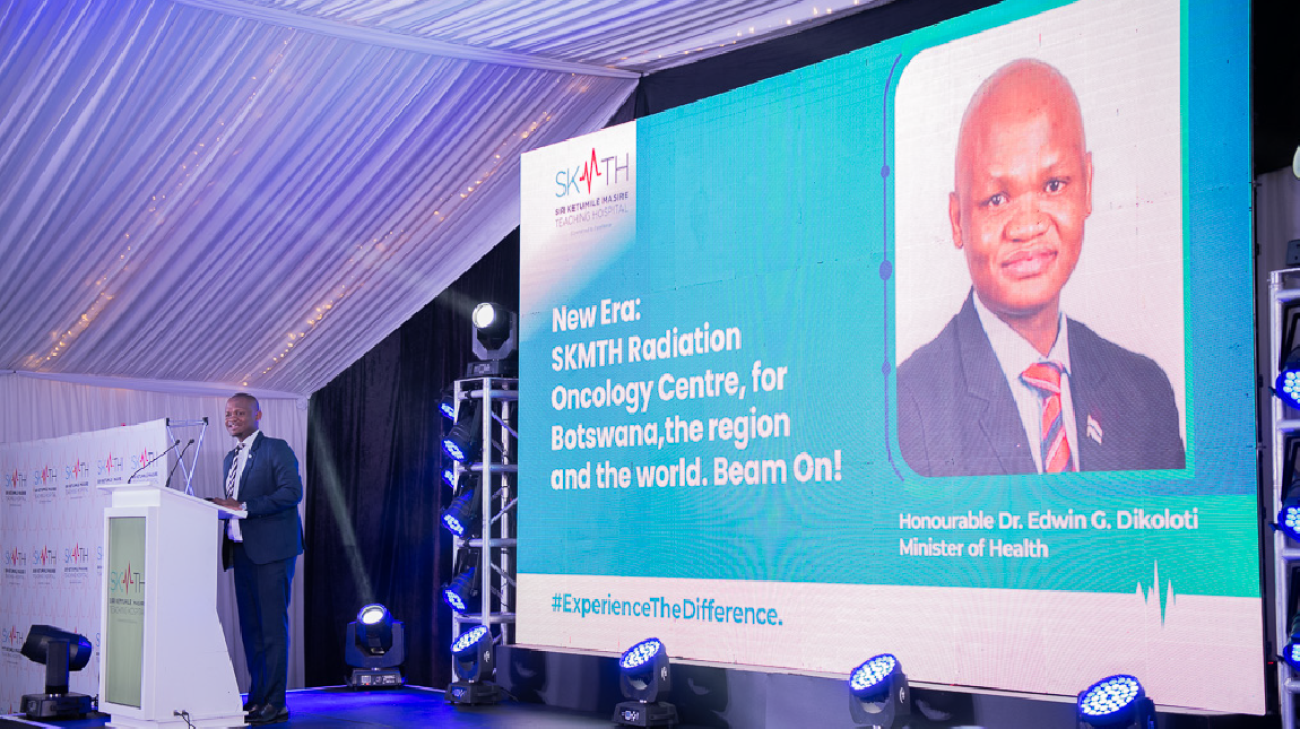 Botswana has established its first public radiotherapy centre.
Botswana has established its first public radiotherapy centre – an important step in providing accessible health services for its people – with the help of the IAEA and assistance through the IAEA's Rays of Hope initiative.
"The radiotherapy centre is the first of its kind in Botswana. It will help address challenges in cancer treatment in the country and the region and reduce government spending in health care for cancer patients, while minimizing patient waiting time and improving health outcomes," said Edwin Dikoloti, Botswana's Minister of Health. Dikoloti officially opened the centre, which is in the Sir Ketumile Masire Teaching Hospital in Gaborone, on 27 July 2023. "This centre will serve patients from the region like those from Zambia, Zimbabwe, Lesotho, Mozambique and others from the rest of the world. It is only in Botswana that such technology is availed to both the private and public health care sectors, as well as for teaching and research purposes," he added.
IAEA Director General Rafael Mariano Grossi, together with President Macky Sall of Senegal, launched the Rays of Hope initiative in 2022. "The opening of Botswana's first public radiotherapy centre exemplifies what we can achieve through Rays of Hope," Director General Grossi said. "This life-saving centre is a milestone in our mission to improve global equity in access to cancer treatment."
Rays of Hope aims to close the cancer treatment gap in low- and middle-income countries by improving the availability of radiotherapy services, medical imaging and nuclear medicine. The IAEA has six decades of experience in helping countries fight cancer. Through Rays of Hope, the IAEA supports national efforts to mobilize resources and to develop partnerships that will promote safe, sustainable and equitable cancer treatment for all.
Around the world, cancer is placing a heavy burden on human health and on national health services. In 2020, there were more than 19 million new cases of cancer and 10 million deaths globally. These figures are expected to grow over the next two decades. In Botswana, around 2800 new cases of cancer are expected to be diagnosed each year by 2030.
Botswana and the IAEA
The treatment room at the new radiotherapy centre at the Sir Ketumile Masire Teaching Hospital (SKMTH) in Gaborone will be key to Botswana's efforts to combat cancer. (Photo: SKMTH)
Since becoming an IAEA Member State in 2002, Botswana has progressed in the peaceful, safe and secure use of nuclear technology in various areas, including radiotherapy. Five national IAEA technical cooperation projects have been carried out to support the establishment of the new radiotherapy centre.
Building on previous support received from the IAEA, Botswana joined the Rays of Hope initiative last year. "Botswana's short- to medium- term needs were analysed, and high impact, cost effective and sustainable actions have been prioritized, focusing on human resources, procurement, and safety and security support," said Hua Liu, Deputy Director General and Head of the Department of Technical Cooperation at the IAEA. Tumisang Healy, the local Member of Parliament, along with high-level officials and representatives from local authorities, attended the opening of the new radiotherapy centre.
IAEA support has focused on human resource capacity building – in particular long-term training for personnel to operate the centre, including radiation oncologists, medical physicists, oncology nurses and radiotherapy technologists. In addition, IAEA expert services have helped Botswana to develop bunkers (shielded rooms) to house treatment equipment in line with approved international radiation safety standards. The IAEA has assisted in the development of specifications for the procurement of equipment, and in commissioning and acceptance testing.
Together with the World Health Organization (WHO) and the International Agency for Research on Cancer (IARC), the IAEA is providing support for the development of Botswana's first National Cancer Control Programme. The draft programme is expected to be completed in October 2023.
UN entities involved in this initiative
IAEA
International Atomic Energy Agency